Ruby Rose is an equestrian business designed by horse lovers for horse lovers, we are always looking for other equestrian businesses to partner with creating an extensive equestrian community. Below we have listed a number of arab studs and the arab stallions they have avaiable for breeders. If you have an arab stallion and would like to post it here on Ruby Rose Horseboxes please email us at partners@rubyrosehorseboxes.co.uk
El Dashour Arabian Stallions
MAAMOON AZEEM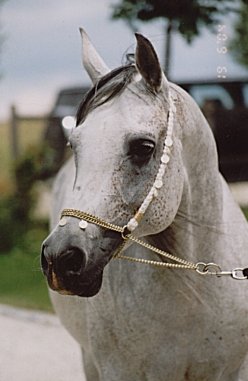 Maamoon Azeem was awarded the silver bow in 1996 at the association stallion show and was recognized for all breed groups. Bettina Hoflehner trained the stallion in the western riding style - under the saddle Azeem is a persistent, performance-ready stallion.
His offspring prove themselves as reliable, character-strong recreational partners and performance-ready sport horses. His dark brown daughter "TENNEH QAHIRA" is currently attracting attention at the racetrack. We wish her breeder and owner, Mrs. Martina Minhard, many more victories and placements with this successful mare!
The Maamoon Azeem daughter " HAFIZAH EL DASHOUR " achieved a good 3rd place at the Asil Cup 2003. Hafizah was pulled by us, trained and presented on this show itself.
Maamoon Azeem graduated in 1996 at the arab stallion licensing the silver ribbon. He is a talented horse with a wonderful character. He gives his gentle temper to his children, and the quality is in the genes too. His dark brown daughter "TENNEH QAHIRA" is very successful at the racetrack. But not only under saddle, so at the showground his children are very promising. His daughter "HAFIZAH EL DASHOUR" got the third place at the Asil Cup 2003, trained and showed by her breeders.
Tel: 09954.905774
Email: info@el-dashour.com
Eleanor's Arabian Stud Farm
Breeding and Training the Ultimate Reining and Western Pleasure Horses
CG Colonel Jac (Howie) - Stallion
- (Triple Colonel x Jacs Little Flower)
Quarter horse reining stallion CG Colonel Jac has been added to enhance the EAF Half-Arabian reining program. The 1991 stallion, a grandson of Colonel Freckles, brings the bloodline of Colonel Freckles and Hollywood Jac 86, both old lines that are predominant in the small band of Quarter horse broodmares that Hamilton has carefully collected. These bloodlines have been crossing very successfully with Crown Musc+ and Hesa Zee+/.
Howie had already been used in the farm's Half-Arab program.
The disposition and confirmation of these geldings helped make the decision to purchase Howie. Hamilton added, "Rod was also very impressed with the longevity of this stallion as a reiner. He was shown up to 12 to 13 years old and still could be, but he just hangs out now and serves as a lesson horse for me."
CG Colonel Jac, better known as Howie, is a palomino with over $10,000 LTE.
Howie stands at stud for $1000, LFG.
Siring Champions
National winners in working cow, reining, equitation, western pleasure, Half Arab, Purebred, open, AOTR.
Shipped semen available. The farm is 45 minutes from the airport, Federal Express picks up at the door. A veterinary clinic specializing in equine reproduction is 3 miles away.
Mark Coombs, breeding manager, has many years of experience, having been breeding manager at several large Arabian farms.
19320 147th Avenue North
Rogers, MN 55374
763.428.2082