Fernando - Coloured Show Jumping Stallion
Kannan x Samber
Based at High Offley Stud in Staffordshire, Fernando is an talented jumping horse who has competed up to 1.40m, sired by Kannan out of a Samber mare he has an exceptional show jumping pedigree. Fernando has attracted a number of mares and has a very high percentage of coloured foals from plain mares.
Kannan is one of the leading sires for showjumping horses who has bred numerous international sport horses including the winner of the Olympic gold at the 2012 London Olympics Nini des Buissonnets.
For More Information On Fernando Please Call : 07811 329229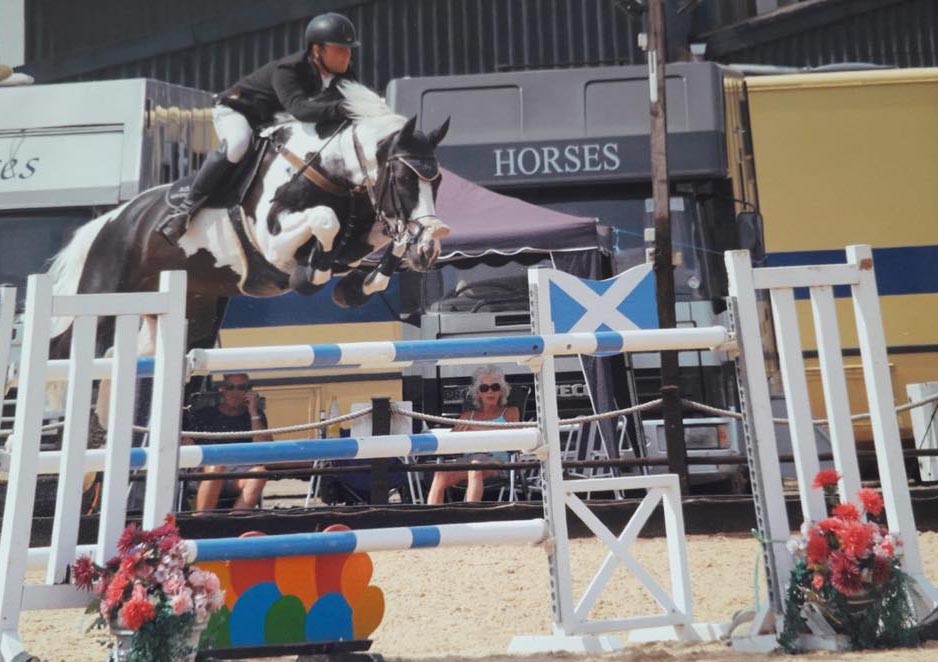 Below you can watch Fernando jumping the 1.30m at Soluhull horse show as a seven year old.
Samber - KWPN Coloured Stallion
Samber was a breakthrough stallion for coloured in the world of sport horse breeding, he was the first coloured stallion who was approved by the KWPN stud book and produced countless coloured sport horses. Samber himself competed in both the showjumping arena up to 1.30m competitions as well as grand prix dressage competitions.
Elew - Coloured Polish Warmblood
Competed by Carl Freeman, High Offley Stud stood at High Offley Stud for a number of seasons and attracted serious sport horse breeders from around the UK who were looking for a coloured sport horse stallion.
Top Coloured Stallion Competed by John Whitaker
- International show jumping rider John Whitaker has found an ultra impressive show jumping stallion Utah Van Erpekom who combines some of the best show jumping bloodlines with proven coloured sports horse bloodlines. Utah Van Erpekom is a very exciting prospect for breeders who are trying to breed coloured sports horses for the future
Lionswood Coloured Horses
Lionswood Coloured Horses are a small private showing team Headed by 25 year old Terrie Cowley and Her Mum Martie Cowley.
The other important members of the show team are Mike Herberts and 18 year old Corinne Parkes.
They proudly home produce a small select number of their own horses at National level.
Their Striking young traditional cob stallion 'Arctic Warrior' stands at the yard with their graded broodmares and their youngstock. He is the son of The Celtic Warrior. (BSPA Graded Stallion.)
The team is committed to a high standard of showing, but their hearts are never far removed from the fact that it is all for the love and respect they hold for each of the beautiful home produced animals that are Lionswood Coloured Horses.
Please Call Terrie or Martie 01858 410473 | Terrie 07756 292318 | Martie 07828 777570
Coventry Park Gypsy Cobs
The Very Best Traditional Gypsy Cobs with Quality, Temperament and Bloodlines
"Breeding Quality with Integrity"
Coventry Park Gypsy Cobs is home to
The Full Monty Stallion IMP UK
The Prophet IMP UK exceptional yearling homozygous Colt.
Gypsy Rose Leigh IMP UK a Gypsy Cob filly that will melt the coldest of hearts with her graceful presence.
And Misty Blue will make her long awaited journey to Australia to join our ever growing herd of exceptional Gypsy Cobs all hand picked for quality temperament and outstanding looks.
The Full Monty has been used exclusively by one of the UK's most discerning breeders, proving himself every time as a Sire who preserves the characteristics of the Gypsy Cob breed.
A son of Ireland's most famous stallion "The Checkity Horse", Coventry Park Gypsy Cobs are proud to announce his arrival in Australia and availability for the 2011 season.
The Full Monty IMP UK
Available to a limted amount of mares
http://www.coventryparkgypsycobs.com